Furniture Upholstery and Refinishing in Gloucester County NJ
Thank you for stopping in! Gloucester County always feels like home even though we moved a little further south in New Jersey. We had a furniture upholstery shop (and a home) in Woodbury some years ago, and Jim grew up in Mullica Hill - it was a more rural town in those days. Some of that still exists - as in the picture above along Commissioner's Road.
We try to keep the upholstery information here helpful and informative - for either home furniture or office upholstery. An essential overview can be found at About Us. Contact us with any questions you might have about your furniture project.
Some Re-Upholstery AND WINDOW TREATMENT Projects in Gloucester County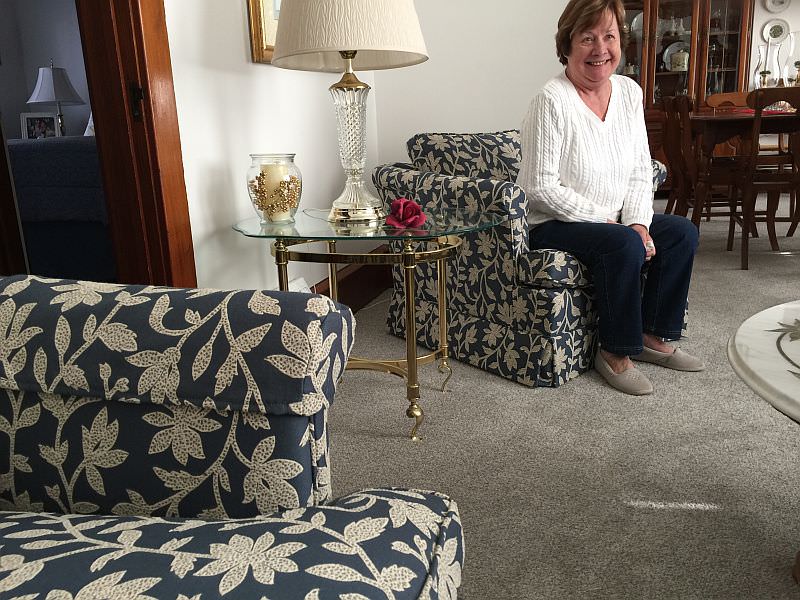 Christmas Chairs - Gibbstown NJ
Changing the fabric on her sofa and chairs was the last step in a facelift for the first floor. Long awaited paint, carpet and appliances gave a fresh feeling.
Sally picked some contemporary fabrics to revive her soft furnishings. We delivered her newly recovered furniture just before Christmas.
After all the lugging and plumping ended, she sat in one of the chairs and said, "I think I am just going to sit here all day and enjoy my new furniture. Merry Christmas to me!"
Kitchen Hutch - Mickleton NJ
The classic maple hutch was the usual colonial brown - like the chairs and table.
Our client told us, "The room, the furniture, just looks so somber. I brightened the walls, but I need something fresh."
We collaborated with her to come up with a painted style finish for her hutch that would tie with the other furniture and put some freshness in the room.
Linen white lacquer with a soft brown distressing glaze enhanced the colonial lines. Refinishing some of the parts in the original finish kept her kitchen furniture looking like a set.
Projects Delivered in Gloucester County
Have we Done Some Upholstery Work Near you?
We've re-upholstered furniture for folks in Mullica Hill, Glassboro, Swedesboro, Pitman and Wenonah ... this is going to take awhile. Projects have been done for people in Sewell, Pitman, Barnsboro, Deptford and West Deptford. The delivery truck has been in Washington Township, Franklinville, Cross Keys, Clayton and Turnersville. Woodbury (of course), Almonesson, South Harrison and Woodbury Heights, Williamstown, Richwood, Woolwich, Mickleton, Mt Royal and Hurfville. Anyone from Ewan?
Anyway, these are the New Jersey areas we serve in addition to Gloucester County:
You may have been searching for furniture upholsterers near me or furniture upholstery shops near me in Gloucester County. Here is a list of some other local furniture upholsterers in the area:
The Upholstery Shop, Barnsboro NJ
Domico Upholstery, Deptford NJ
Walters Custom Upholstery, Blackwood NJ
Williamstown Upholstering Co, Williamstown NJ