Furniture Refinishing Work Shop Serving NJ Area
I hope you consider us for your furniture refinishing project. Our refinishing photo gallery shows the types of furniture and finishes we have done for folks around the southern New Jersey area.
Types of Wood Finishes We Offer
Stained Clear Finishes
Traditional or trendy wood colors designed to enhance the features of the wood. Dyes, wiping stains and glazes combine for clarity, depth and character.
From deep colors like traditional mahogany and modern espresso, to subtle wash tones or primary colors. Clear modern base coats and lacquers for luster and durability.
Like this 16' long cherry dining table from a West Deptford, NJ home. A penetrating dye stain as the first color on the wood. And then a light glazing stain over a few coats of sealer. Finished with two coats of catalyzed lacquer in satin for a soft gleam.
Paint Style Furniture Finish
Think of the color swatches you see in any paint department. Now think of your furniture. Now put the two together - furniture painting.
We use a pigmented lacquer to build the colors. From afar it looks like paint, but it is thinner and flows into the fine details of furniture more readily than the heaver bodied true paints. It feels sleek and smooth under your hand, just like a furniture finish.
Tough enough to qualify as a kitchen cabinet finish, it lays out in a smooth, tight coating. No brush marks. And a higher resistance to common household spills and bumps than chalk paint. Available in over 800 stock colors with the option to mix custom matches.
The paint style finish on this dining room set from a Pennsylvania home started with several layers of primer. Then two layers of pigmented lacquer to set the true color. A glazing stain wiped and brushed added accents and a satin topcoat gave durable protection.
Layered Metallic Finishes
Every one of these layered finishes is a custom creation. From shimmery bright silver to softly glowing gold to dull blued steel.
Colored primers and base coats set the basic color. Then colored pearl layers finish the color and build the reflection. All in the same tough resins as the clear finishes.
The metallic layer can be glazed for accents and softening.
This server from Cherry Hill, NJ had to blend with the upholstery fabrics. We started with a warm charcoal base. Then applied a thin layer of silver pearl to get that metallic gleam. A brushed and rubbed Van Dyke brown glaze brought in a warm, rusty influence. Satin topcoats kept the muted reflection.
The Goal of Refinishing
On most pieces of furniture, people interact primarily with the finish. It presents the wood to our sight and touch, inviting our fingers to trace along a carved edge and our eyes to drift over the surface of the wood. This is the aesthetic or decorative aspect of a finish, where it enhances the features of the wood and the lines of the furniture.
The finish is also the first line of protection for the wood. The finish shields the furniture from moisture, stains, dirt, and other environmental elements which can degrade its appearance and function.
A peeling, crackled, cloudy finish fails one or both of its functions. Refinishing, in general, renews both aspects with a clear, well-knit, attractive surface.
For many people, the quality of their older furniture cannot be equaled by the new furniture of today. The quality materials and craftsmanship of years past is difficult to replace.
If you do find new furniture that does meet those standards, it could cost 2 to 4 times more than refinishing. We have worked on historic items as well as ones just out of the packing crate. In addition to standard stain and lacquer finishes, we are fluent with painted finishes and employ an array of glazing, shading, and toning techniques to provide a full, rich appearance.
Advantages of Refinishing Your Furniture
Let's get beyond the basics of what we expect of a furniture refinisher: remove the old finish, perform repairs, and put on some new finish.
Beyond the process of refinishing furniture and beyond the variety of technical procedures that furniture refinishers employ
.
What advantage is there to refinishing?

One advantage is that a furniture refinisher can take a specific attitude towards the features of your furniture versus an assembly-line formula approach.
Enhance the great features. No Minwax + polyurethane DIY refinishing job could have featured the grain detail like on this burl chest.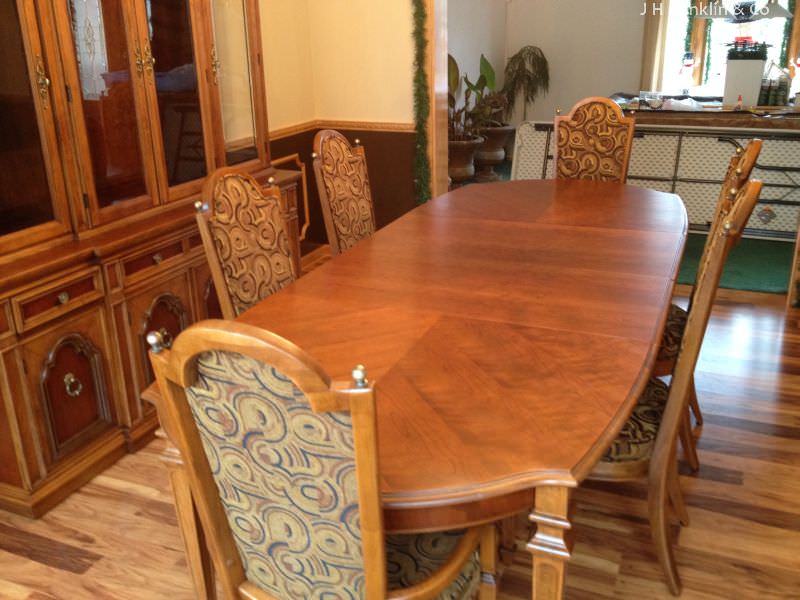 Another advantage is the ability to coordinate your furniture finishes with the other treatments and themes of your living spaces.

All furniture dwells in a setting - flooring, paint, window treatments, upholstery.
Design sensitive refinishing can go a long way to making your spaces look polished and pulled together.
In this refinishing project, note how the tones of the flooring, walls and trim have been echoed in the dining set.
Do something unique and special!
More of an opportunity than an advantage. Follow the siren song of your creativity and sense of style. Because you can!
Something NEVER found in a showroom!
Like this bright turquoise lacquer on a dowdy Italian style dresser from the 1940's.
That is a statement! And it sits in the entrance foyer of an apartment for all to gawk at.
Refinishing Steps - Stained Wood Furniture Finish
Dis- assemble

Strip old finish

Preparation: repair and sand

Background stain color

Barrier and sealer coatings

Scuff sand

Body coat

Grain stain/glaze/toner (or all)

Topcoats

Polish or buff

Clean and lacquer hardware

Re-assemble
We proudly use the Valspar Wood line of professional wood finishing products. Along with a few traditional supplements to deliver rich, durable results.
The furniture shop of JH Conklin & Co. refinishes furniture for people and businesses throughout Southern New Jersey, Delaware, Philadelphia metro and the southern shore areas.